There is a Miracle in 21: God Completes
by Lorieen D. Henry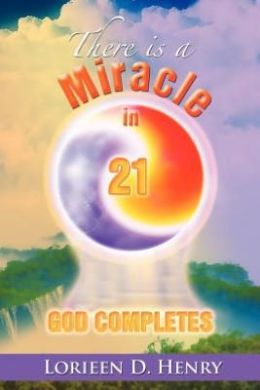 From the first chapter called
Hot Mess
, you know that
There is a Miracle in 21: God Completes
will be no ordinary "Christian self-help" book! Lorieen D. Henry gives an in-your-face and honest account of the growth that transpired during her unique "therapy with God." She used this therapy to banish negative talk, heal the broken child within herself, and ultimately fulfill the divine design for her life – all miracles, once the reader understands her journey!
Riddled with feelings of guilt, inadequacy, and confusion, Lorieen contemplates when the troubles began and gives a detailed account of the military retirement that left a bitter taste, "…after giving 8 years of [her] life to something greater than [herself]…" (Henry 33). Going from breadwinner to homemaker plunges her into a deep depression, as she questions whether she is good enough to fulfill this role. Soon, these harmful thoughts manifest as an overweight body and a stressed-out mind. Tears, anger, and plain old whining become her constant companions until she realizes that she has "…allowed mess to consume [her] and shift [her] eyes from God" (43).
Lorieen reveals the unattractive details in her quest to live for Christ and in accordance with God's plan for her life, and some of us will see a mirror image of the ugly facts about ourselves, about letting the mess go, and trusting God to birth a miracle. During her therapeutic journey, Lorieen realizes that
sometimes our own negativity and defiance causes the troubles in our life
- a harsh reality that some must meet head-on! And because we see our own struggles in the author's,
There is a Miracle in 21: God Completes
serves as a testimony to the power of truth, for when we are truthful with ourselves, then can we seek to place God first and rid our lives of the negativity that robs us of peace, health, and kin!
Some of you may be dealing with a mess in your lives right now. It's inevitable! But as you read about Lorieen's twenty-one day journey of healing (that actually spanned the course of twenty-one months!), you can be reassured that
Hey, you are not alone on your journey! You are not the only one that has felt less than! There is hope!
Witty and provocative,
There is a Miracle in 21: God Completes
will guide you in restoring balance and order in your relationship with God, self, and family. Be open to receiving a "timely word" or a "newsflash" that will help in motivating
you
to receive God's best for your life!
Permission granted by Lorieen D. Henry for book cover use! Thank you!